*All links that lead you OFF this site bring up a new browser window... This is so you can visit their site.. go through many *pages* and "The Laughing Chow" will always be in the background for you to easily return to, after you are finished with it Just exit their window when you are through at their site.
These links to pages that are ON my site DO NOT bring up a new window...
My History Is America's History
http://www.myhistory.org/tell/index.html
This is a wonderful site to visit! treat yourself
My Backyard Journal -Journaling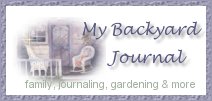 The Wanderer
If you love 50's and 60's music-this is for you.
Welcome to Wildwood Cottage
I love this site, the music, and peacefulness. A wonderful site to visit
Angel Whispers
Angels and uplifting
The Backyard Journal-Gardening
lots of pictures
Come wander thru the back yard with me..


The Butterfly Website
"To make a wish come true, whisper it to a butterfly.
Upon these wings it will be taken to heaven and granted.
For they are the messagers of the Great Spirit"
Native American Legend

Colleen's Corner
Down The Garden Path
great site-Collens Corner contains
Down The Gardening Path.
Butterfly Gardening
*all on one site






BACK
chows • pet quotes • ben • zackary • web rings • chow books • links
stories-journal • about us • contact us • other links