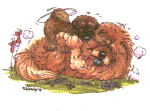 "The great pleasure of a dog is that you may make a fool of yourself with him and not only will he not scold you, but he will make a fool of himself too."

Samuel Butler (1835-1902)

I cannot imagine our lives without these 2 gentle creatures that share it. Benjamin and Zackary are Chow Chows.
Pure breed but not show quality..they are "friend and family quality"! Even better in my eyes.
We have no interest in breeding or showing them..we believe in preserving the best qualities of Chow Chows. Zack and Ben will never be bred and are neutered.
I have heard the "bad chow stories"...they always sadden me..We should make sure that the "good chow" stories are heard too...Chows are not for everyone..they are a breed apart..literally the cats of the canine world..delightful, intelligent pets that own us..Perhaps some would prefer less independent, less free thinking animals.
For our family they are the only choice for us. Our first Chow came to us over 15 years ago. Our sweet Kuma that shared our life for 14 years..Boomer came 6 months after Kuma-he lived 13 years..both lived long healthy lives-well into their senior years before we lost them.
Zackary and Ben are 2 years and 4 1/2 months old. Our Chows are "forever friends"...we do not take this responsibility lightly. They bond with us as we do with them. Our home is shared with 5 cats too. Poor Ben (the black pup) has a challenge of living with the cats until he figures out what they are. ! He seems to think they're toys. Fred-a very large one, 24 pounds!, allows him to groom him and pull him around by the tail. Both seem to understand that the other will not harm him. The other "old lady" cats do not feel the same tho! At least once a day Ben runs thru the house-full blast-running for his life! A irritated cat chasing right behind him! Quite a sight-especially when Ben is much bigger!
Zackary is our "good will ambassador"..he loves people, our friends and neighbors enjoy seeing him. He is gentle and sweet natured. Ben is also but Ben is more passive then Zack. Zack is a very big chow and he knows that he has to sit down when people come in..then he can say hello. This is good because my parents live close by and are in poor health and elderly. He knows he cannot get to close - we were afraid they may trip over him. He is allowed to say hello and give "hugs and kisses" after they sit down. Ben approaches quietly-says hello and walks away..still aloof until he gets to know them.
Chows are such fun..occasionally they both just start running for the joy of it-tail straight out, showing toothy grins as they chug thru the house -running til they are exhausted.
I guess you can tell they get a lot of attention-they are well socialized, and trained. Some things they "must" do to live with humans but they can be stubborn and hard to teach "tricks". They do them when they darn well please...not when I want them to.
Today-after making a utter and complete fool of myself to get Ben to "shake"..he finally gave in and shook my hand..he made sure I knew he shook only when he wanted to-- not when I wanted him too.!



BACK
chows • pet quotes • ben • zackary • web rings • chow books • links
stories-journal • about us • contact us