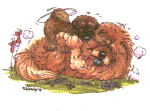 Hello, welcome to Laughing Chow Home Page & Web Ring. We are Chow Chow lovers and owners (or do they own us?) for over 20 years. Our children and grandchildren have been raised with Chows...and certainly loved by them.
Our grandsons have rode one, slept on him, played games til they collapsed! and in general -love them as we do.
We want this web site to be a little different. There are so many great informational web sites about Chows!!
We will share the best we can find.

But this one..is a thing of the heart. We'd like for you to see our pets and how they live and interact in our home.
The bad chow stories leave me heartsick as I live with these gentle creatures. We'd like for you to meet our Chows, see them in a personal light and help you understand and see the "real Chow" as we see them.
Right now Zackary and Ben live with us - They are life long members of our family - just as Boomer and Kuma were. They lived here with us for 14 years each-from puppy hood til their last years.
I admit I am partial to these magnificent creatures! They add so much to our lives, excellent companion animals,
intelligent, and well mannered.

Our animals are well trained and well socialized..as they should be.
We are not breeders nor do we show them. We just love them! As responsible pet owners we believe in spaying and neutering..we believe in responsible Chow breeding. Its a big responsibility to preserve the heritage and intergrity of a breed of animals like the Chow Chows.
We believe in Chow adoption also-so we will be listing Chow Rescues here too.
Come join us here often, meet our family and pets, and support us in helping to show Chows as they REALLY are.
Read Zack and Bens stories as they have happened, and see them as the joyful creatures they can be. Ben is the "laughing chow" - the happiest little Chow I've ever met!
They are pets that add value and joy to our life. Gentle, well mannered creatures that integrate well into the home and family.
We'll share as much information on Chows, training, socializing, responsible breeders, and just great web sites.
*a small note-our Chow Chow live in our home with us and 5 old cats that rule the house and the Chows.
All of our pets are spayed or neutered and all have the necessary shots they need.
I cannot stress enough the importance of rabie shots! Especially since a rabid skunk came into our yard and attacked our dogs..then thats another story that'll be on the story page.
We give full credit for others work on the same page that it is used on.

All graphics have been personally designed by myself, Moonflower Graphics, with the exception of the cute chow under the title. That is from a Clipart Collection
Watch for original graphic sets for Chows at this site. for more info:E-mail





BACK
chows • pet quotes • ben • zackary • web rings • chow books • links
stories-journal • about us • contact us