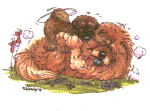 Chow sites
-All web site links are presented in good faith, tho this is not a personal endorsement.
Tho I have visited these sites and enjoyed it!

AKC
http://www.akc.org/breeds/recbreeds/chow.cfm

Domino Chows
http://www.ChowChows.com/

The Living Chow Chow - free preview of an online Chow lovers magazine
http://www.chow-chows.com/sampleissue/
*This looks very interesting!

BARF-The healthy way to feed your dog
http://www.minden.com/BARF/

The Chow Scene
http://www.clearshot.net/personal/chowscene/index.htm

Home Vet©Natural Pet Care
http://www.homevet.com/petcare/index.html

Chow Breed Standard
http://www.akc.org/breeds/recbreeds/chow.cfm


BACK
chows • pet quotes • ben • zackary • web rings • chow books • links • other links
stories-journal • about us • contact us

View My Guestbook
Sign My Guestbook