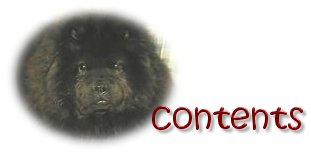 Welcome to laughing chow web site and web ring.!
The black Chow puppy above is Ben, he is a deep coal black, the photo has been lightened so you can he really does have a face! Ben is the happiest puppy I have ever met.
We have owned Chows for 20 years - or they have owned us. I cannot imagine not having these creatures in our lives.
Our lives have been richly touched by Kuma, Boomer, Zackary and Ben. Kuma and Boomer lived 14 years each with us. From "puppy hood" to old age. Zackary is 2 and Ben is 5 months old.
Please join us as we show the "real" Chow Chow and a personal look at our lives with our Chow companions. We do not breed or show Chows-we simply love them and share our lives with them as companions.

For easy navigation there are links at the botton each page.
Zackary


Zack & Ben-How we got Ben
In memory of our pets


Rainbow Bridge Poem


A Dogs Prayer
History
*non working link at this time
Chow Books
*non working link at this time
linked straight to Barnes & Noble-click on the picture for more info.
Will be added to often.
Pet Quotes
"He is your friend, your partner, your defender, your dog. You are his life, his love, his leader. He will be
yours, faithful and true, to the last beat of his heart. You owe it to him to be worthy of such devotion."
Unknown
Stories and Journal


How Zackary got his puppy
Other Links
gardening, journaling, 50's music, etc.
family safe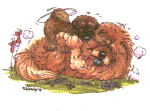 "The little furry buggers are just deep, deep wells you throw all your emotions into."
Bruce Schimmel
©moonflower/laughingchow2001
all rights reserved
contact us: moonflower
design by moonflowergraphics